In the world of the UFC, there are few more memorable things than a big upset, and we have seen some of them in 2023.
With a number of major UFC upsets to choose from this year, which have been the most memorable up to this point?
In all honesty, there have been so many that it's almost hard to choose. However, some definitely stand out more than others.
Here are the five biggest UFC upsets of 2023 so far.
---
#5. Aljamain Sterling vs. Sean O'Malley – UFC 292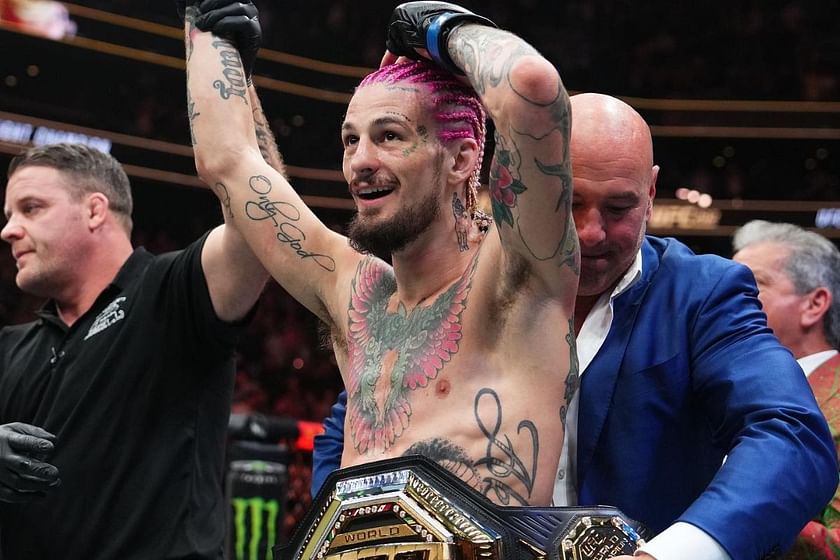 While many fans have been quick to write off the bantamweight title reign of Aljamain Sterling in hindsight, that really isn't fair to 'The Funk Master'.
In reality, prior to UFC 292, Sterling was arguably the most dominant 135lber the octagon had seen since the heyday of Dominick Cruz.
After claiming the title via disqualification, he defeated Petr Yan pretty clearly in a rematch, and then got past two difficult challenges in TJ Dillashaw and Henry Cejudo, too. When you add in his pre-title reign wins over the likes of Cory Sandhagen and Pedro Munhoz, it's hard to argue with his credentials.
That's why it was a major upset when Sean O'Malley – who had just one "big" win to his name, a controversial decision over Yan – knocked him out cold in their bout last month.
Sure, 'Sugar' always had the capability to give Sterling problems thanks to his striking style and size, but most fans expected 'The Funk Master' to run through him on the ground.
That didn't happen, though, and instead, Sterling walked directly into one of the best counterpunches ever seen in the octagon, ending his reign in a flash.
Whether O'Malley goes onto a dominant reign in his own right remains to be seen, but it's safe to label his title win one of the biggest upsets of 2023.
---
#4. Brendan Allen vs. Andre Muniz – UFC Fight Night 220
The other upsets on this list had far more magnitude around them than Brendan Allen's win over Andre Muniz back in February, but given the nature of this one, it definitely belongs on the list.
Not initially meant to headline UFC Fight Night 220, the middleweight clash was elevated into the spot when Nikita Krylov vs. Ryan Spann was unexpectedly cancelled.
Coming into the bout, both men were on hot streaks, with Muniz winning nine in a row, Allen winning three in a row. However, it's safe to say that Muniz had the better wins to his name.
'Sergipano' was widely recognised as probably the most dangerous grappler in the 185lbs division, largely thanks to his submission win over the legendary Jacare Souza in 2021.
While 'All In' appeared to have a chance against the Brazilian standing, then, on the ground, it seemed likely that he'd be in serious trouble.
However, after two rounds largely on the feet, Allen surprised Muniz with a takedown in the third round, and managed to take full mount. From there, 'Sergipano' seemed to be calm when he gave his back – but that turned out to be a big mistake.
Moments later, Allen applied a shocking rear naked choke, and the fight was over.
'All In' has since won again and now sits at the No.10 spot in the division, but it remains stunning that he submitted such a high-level grappler, making this one of 2023's biggest upsets.
---
#3. Dricus du Plessis vs. Robert Whittaker – UFC 290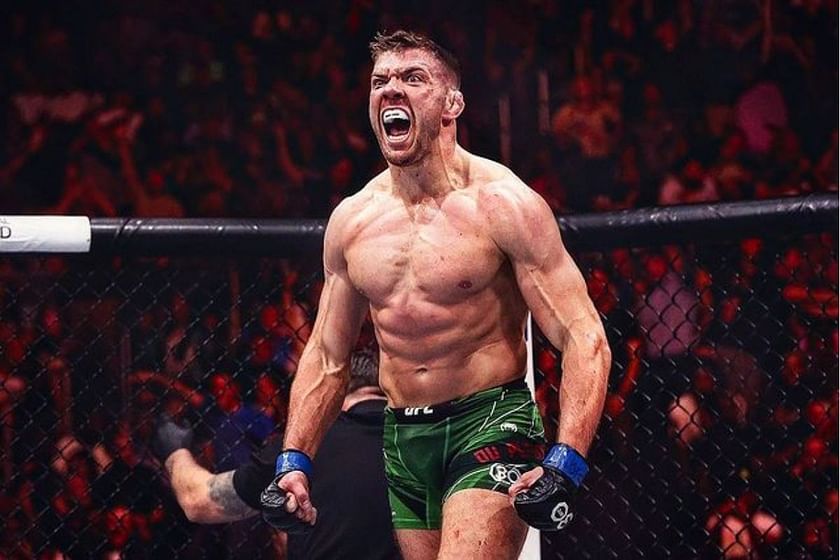 When it became clear that Dricus du Plessis had gotten under the skin of then-UFC middleweight champ Israel Adesanya, it seemed to make sense for the promotion to build him for a title bout.
What definitely didn't seem to make sense was a clash with Robert Whittaker, the former champ who'd only ever lost to Adesanya in nearly a decade at 185lbs.
Sure, du Plessis had some solid wins to his name over the likes of Derek Brunson and Darren Till, but he'd never faced anyone as dangerous as Whittaker.
Most fans, then, expected 'The Reaper' to pull off a relatively simple win, as he'd done against other highly-ranked fighters like Jared Cannonier and Marvin Vettori.
Instead, though, after surprising Whittaker with a nasty ground assault in the first round, du Plessis caught the former champ cleanly in the second with a straight right hand that dropped him.
Whittaker tried to fight back, but he looked wrecked as he got to his feet, and in an astonishing scene, 'Stillknocks' swarmed him and put him away violently.
The win probably should've set the South African up for a title shot – particularly after his post-fight staredown with Adesanya – but to date, that hasn't happened.
Regardless, given Whittaker's stellar record over the years and du Plessis' generally untested nature, this ranks as one of 2023's best upsets.
---
#2. Israel Adesanya vs. Sean Strickland – UFC 293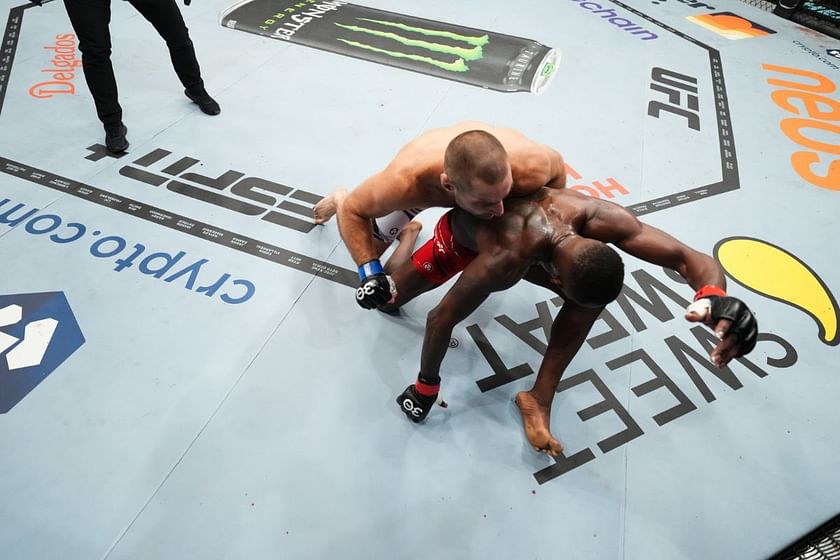 The latest upset to make this list happened this past weekend, and the full ramifications of it haven't really had chance to sink in just yet.
UFC 293 was initially supposed to see Israel Adesanya defend his middleweight crown against top contender and bitter rival Dricus du Plessis. When 'Stillknocks' couldn't make the date, though, the promotion instead decided to throw the shot to Sean Strickland.
'Tarzan' was coming off two wins in a row, but nothing he'd done before suggested that he was capable of beating a striker as skilled as Adesanya.
'The Last Stylebender', meanwhile, had regained his crown from Alex Pereira earlier in the year, and looked like he was once again riding the crest of a wave.
Remarkably, though, Strickland's gameplan of walking Adesanya down and putting him under immense pressure worked perfectly. The champion never got comfortable, couldn't get his striking going, and even suffered a violent knockdown in the first round.
Strickland didn't come as close to finishing him again as the fight went on, but when the final buzzer sounded, there was no question as to who deserved the nod. Sure enough, 'Tarzan' was handed a decision victory that shocked the world.
Whether Strickland can now hold onto his title is anyone's guess, but this upset belonged up there with the very best we've seen in the octagon, point blank.
---
#1. Valentina Shevchenko vs. Alexa Grasso – UFC 285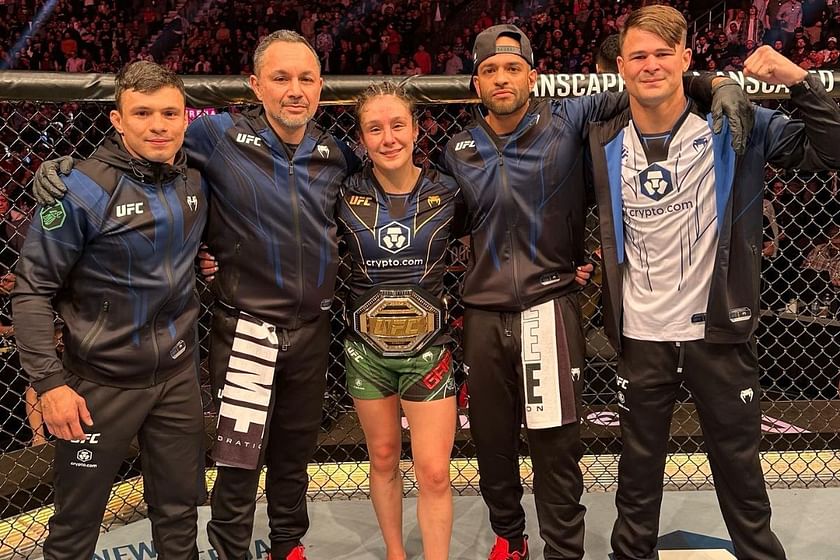 While Sean Strickland's recent win over Israel Adesanya undoubtedly shocked the world, the biggest upset the UFC has seen in 2023 remains Alexa Grasso's victory over Valentina Shevchenko in March.
Coming into the clash, which saw Shevchenko put her flyweight crown on the line, 'The Bullet' had gone a solid five years unbeaten since dropping to 125lbs.
In that period, she'd won the title, then turned back the challenge of seven different challengers, with most of them meeting a violent end.
Grasso, meanwhile, had won four fights in a row, but had never done anything to suggest she stood a chance against Shevchenko. If anything, it felt like the promotion had just given her a title shot to keep 'The Bullet' busy.
Incredibly, though, despite Shevchenko largely coming out on top in the first three rounds, Grasso hung tough and never looked in real trouble.
In the fourth round, though, 'The Bullet' made a rare mistake – slipping to the ground on an attempted kick – and within seconds, the Mexican challenger capitalised.
She jumped onto Shevchenko's back, slapped in both hooks to control her, and applied a tight neck crank. Unbelievably, with just 26 seconds remaining in the fight, Shevchenko tapped out.
Not only did Grasso end what was then the longest title reign in the UFC, but she also became the first fighter to ever truly finish Shevchenko. This was an incredible feat given 'The Bullet' was considered the best pound-for-pound female fighter in the world.
Essentially, then, even if Grasso fails to hold onto her title in her rematch with Shevchenko this week, this upset stands as one of the greatest of all time, as well as 2023.