"Right up there," the Bills safety said following the team's annual "Red and Blue" practice inside the stadium. "It was an emotional day. I felt the love then."
The setting last week provided Hamlin a chance to reflect on the excitement he felt attending the Bills' loss to the Bengals in an AFC playoff game on Jan. 22. Raising his arms to urge on a cheering crowd through an open window on a snowy afternoon, it marked Hamlin's celebrated first public appearance some three weeks after his near-death experience during a regular season game in Cincinnati.
The moment also stirred emotions of uncertainty Hamlin experienced about his future.
Some seven months later, the 25-year-old is preparing to take the next major step in his efforts to resume playing when the Bills open their preseason hosting the Indianapolis Colts on Saturday.
After coach Sean McDermott on Thursday said he's taking a "day at a time" approach to Hamlin's playing status, he later clarified to The Associated Press by saying Hamlin is "scheduled to play."
Much like everyone else, McDermott has closely followed each milestone of Hamlin's recovery, with the game to be the third-year safety's first appearance in a competitive setting since going into cardiac arrest and needing to be resuscitated on the field.
"This is to some extent uncharted territory for me as well, and all of us. So we're just trying to do the best we can to be there for him," McDermott told reporters. "I try to keep a close eye on where he is and where he's showing up and how he's responding. And he's done a great job."
For Hamlin, it's been a step by step process without peeking too far ahead.
"Trying to look forward, it just creates a lot of anxiety, a lot of unnecessary feelings," he said. "If you stay in the moment, it allows you to process it when you're there."
It's an approach that began with Hamlin waking up from a medically induced coma in a Cincinnati hospital bed, to being able to breathe on his own, being strong enough to attend the Super Bowl, and eventually announcing he was putting fear aside to resume playing football after being cleared by doctors in April.
Hamlin wasn't ready to envision what it might be like to play on Saturday, saying: "It's too soon, man."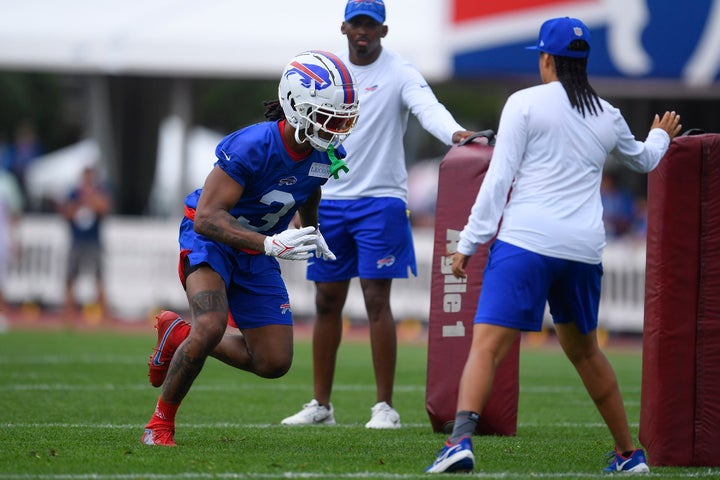 Doctors have referred to Hamlin's recovery as remarkable since he collapsed on prime-time TV after making what appeared to be a routine tackle. His heart stopped as a result of commotio cordis, which is when a direct blow at a specific point in a heartbeat causes cardiac arrest.
And his comeback bid has been called courageous. After two more preseason games, Hamlin's next hurdle will come on Aug. 29, when the Bills make their final cuts to establish their regular-season roster.
Hamlin has displayed no signs of a setback or hesitation during training camp in seeking to re-secure one of the backup spots behind returning starters Micah Hyde and Jordan Poyer. One of Hamlin's best moments came during the Bills' second day of padded practices, when he intercepted a pass from backup quarterback Matt Barkley.
Otherwise, he's been his playful self, whether it's skipping out to practice while acknowledging the cheering crowd, dancing on the sideline to the music, and signing as many autographs as time allows.
Stefon Diggs takes joy in seeing Hamlin simply being himself again.
"It's easy to come in and say, `OK, he's back on the football field.' But to see him every day living, breathing, laughing and having a good time is really where you have your eye opening. Like God is good," Diggs said. "Of course I'm going to be one of the main people cheering for him. From a human standpoint, I'm just happy the guy is alive."
Hamlin will have friends on the other sideline cheering for him, too.
Receiver Isaiah McKenzie, who signed with the Colts this offseason after spending the previous four-plus years in Buffalo, has already arranged to exchange jerseys with Hamlin following the game.
"Being part of that was scary, and I think it was scary for anyone who plays this gladiator sport," McKenzie said. "At the same time, I was happy that he came through. Now he's doing well. He's progressing. He's making plays on the football field. And I'm liking what I'm seeing."
Colts linebacker Rodney Thomas has also kept tabs on Hamlin. The two were high school teammates in Pittsburgh, and again at Pitt, and Thomas drove from Indianapolis to Cincinnati to visit Hamlin in the hospital a day after he collapsed.
"Definitely going to be special, especially with all the things that he went through," Thomas said. "I'm looking forward to being on the field with him again, just competing, just trying to make a name for ourselves as usual."
Hamlin is eager to return to normalcy, knowing such a thing may never exist for someone who nearly died, and whose life has changed personally, emotionally and spiritually.
"Man, sometimes it's like normal don't exist," Hamlin said. "But it's a super-blessed space. To be able to do what I love again. That's kind of the normal thing."
___
AP Sports Writer Michael Marot, in Westfield, Indiana, contributed to this story.