Real Housewives of Beverly Hills star Erika Jayne wants to be paid for the $750,000 diamond earrings she claims were unlawfully taken from her amid estranged husband Thomas Girardi's ongoing bankruptcy proceedings.
As Erika moves forward in her efforts to reclaim the loss amid her recently-launched residency in Las Vegas, an attorney is speaking out about the latest lawsuit filed against her and Thomas, which accuses the couple of a fraud scheme.
Last month, days before Erika's residency began, costume designer Christopher Psaila, of Marco Marco, accused her and Thomas of teaming up with the Secret Service in 2017 to falsely accuse him of credit card fraud, which cost him nearly $800,000.
"The allegations are that Tom Girardi was able to pull strings and basically get out of debt to say that Erika Jayne was fraudulently charged," lawyer Neama Rahmani, who is not part of the case, explained on Us Weekly's Legally Us podcast. "This isn't just a chargeback here, this is a situation where now federal agents are now [allegedly] getting involved and investigating and potentially prosecuting this costume store."
As Neama noted, Thomas is a "powerful man" with "connections" at the "highest level of government."
"The state bar [in Los Angeles] didn't investigate him or take action despite hundreds of complaints because of his close ties to folks at the state bar," he shared. "We're talking about folks who are in federal law enforcement."
According to the attorney, the case against Erika and Thomas is a "complex" and "bombshell" case with "very serious" claims against the RHOBH cast member.
"If it's indeed true, this is a very big deal," he warned. "This is an [alleged] misuse of our system of justice — and we know how big of a deal that is right now in other, sort of, political arenas. If Tom truly was able to get someone to investigate someone his wife was having a civil dispute [or a] a credit card despite with, this was a big, big problem."
Meanwhile, Erika's lawyer, Evan C. Borges, told Us Weekly in a September 6 statement that he found the timing of Chris' lawsuit to be suspicious.
"It seems calculated that Plaintiff timed this lawsuit to coincide with Erika's Las Vegas residency opening. Plaintiff's claims against Erika are without merit," he noted. "Independent federal prosecutors at the U.S. Attorney's Office made the decision to charge plaintiff with crimes, no one else. The notion that Erika controlled the U.S. Government, or for that matter a Fortune 100 company such as American Express, is fantasy."
Neama went on to say that Thomas' dwindling mental health could be a factor in the case against the estranged couple, who Chris said took the money from him, despite receiving his goods and services.
"Tom is being prosecuted [and] a judge just has to determine if he's competent to stand trial," he explained. "So, competence is an issue. You really have to understand the nature of the proceedings against you and be able to assist in your own defense. So if Tom is deemed incompetent then that's a temporary situation. But if it's never restored to competence he's never going to face criminal justice."
Although Erika has yet to be prosecuted, despite being tied to several lawsuits in recent years, Neama said that this time around, she could get "in trouble criminally."
"[And] the folks at the Secret Service and maybe even the Department of Justice, that [allegedly] participated in this type of scheme could get in trouble as well," he added.
As for Erika's diamond earrings, which she turned over to Thomas' bankruptcy trustee last year as the trustee attempted to repay victims of Thomas' fraud, attorney Ronald Richards shared on Twitter on September 6 that she's since requested payment for them.
"Erika has told the [bankruptcy court] she wants the money for her former earrings. If the Trustee has to give money back, this will be hard, because numerous professionals have been paid," he wrote. "The Appellate Judge said the buyer gets to keep them but this could be effected if the money is ordered returned. The Trustee is now saying it does not need to show the funds came from the victims to buy the earrings because Erika and Tom commingled them in a firm account."
"Erika is using this issue to delay her trial on the $25M," he added, giving a nod to the $25 million lawsuit the trustee filed against Erika, who they claim received fraudulent transfers from Thomas' law firm.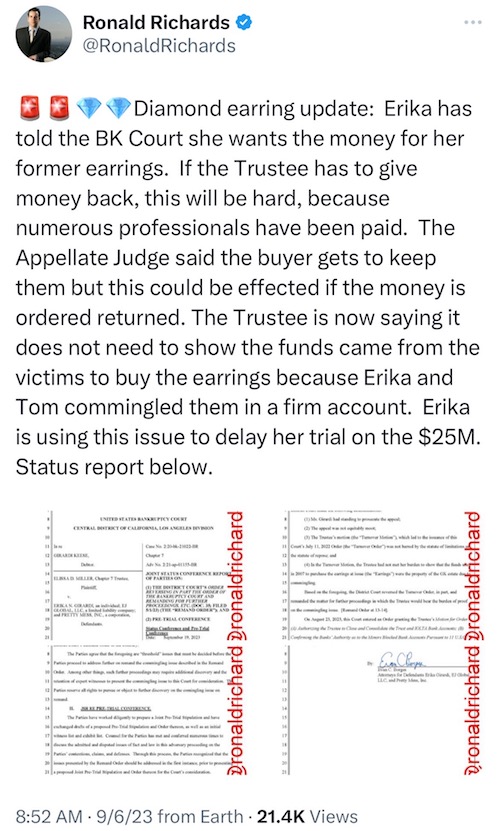 As RHOBH fans may recall, Erika won an appeal she filed in regard to the earrings, which she claimed were taken from her unlawfully, earlier this year. However, months prior, the jewelry was sold for $250,000 at an auction and later seen on none other than Ronald's wife, Lauren Boyette Richards.
The Real Housewives of Beverly Hills season 13 is expected to premiere on Bravo sometime later this year.