GTA Online UFO sightseeing is back with last week's Halloween 2023 event update. These flying saucers can be seen every day in the game, and players can earn daily money by finding them in the skies of Los Santos. From now until October 31, 2023, one can take photographs of these UFOs and send them to Omega for 1000 RP and $15,000.
However, finding these UFOs is difficult, and players should know the exact coordinates and timings to search them. So, this article shares today's UFO map location in the GTA Online Halloween 2023 event as of October 17, 2023.
---
" class="promoted-img" loading="lazy" width="1440″ height="220″ alt="fortnite-promotional-banner" />
A UFO can be seen at the Silent Probe Mountain map location in GTA Online today
As shown in the abovementioned X post, today's UFO map location in GTA Online is Silent Probe Mountain. Located in the southeast corner of Sandy Shores, Blaine County, it is found within the Senora National Park near a short rail tunnel. It's inspired by the Salvation Mountain, situated in California. Players can find large tanks with arrows pointing toward the area in the desert, helping them locate the hill.
According to the game's lore, the Silent Probe Mountain is an art installation called Beam Me Up. Consisting large decorated hillside, the area occupies Senora Quarry, a disused quarry. A congregation of hippie alien enthusiasts happens to live here. Players can see a few tents and a large-sized trailer parked there.
A few vehicle wrecks can also be found, along with a cement mixer and paint cans scattered throughout the area.
Today's GTA Online UFO location is directly above the area, allowing players to easily take its picture.
Famous Rockstar Games insider Tez2 also shared future UFO locations via an X post a couple of days ago. According to their analysis with the help of @Scissors61, here are all of the map locations players should note for future reference: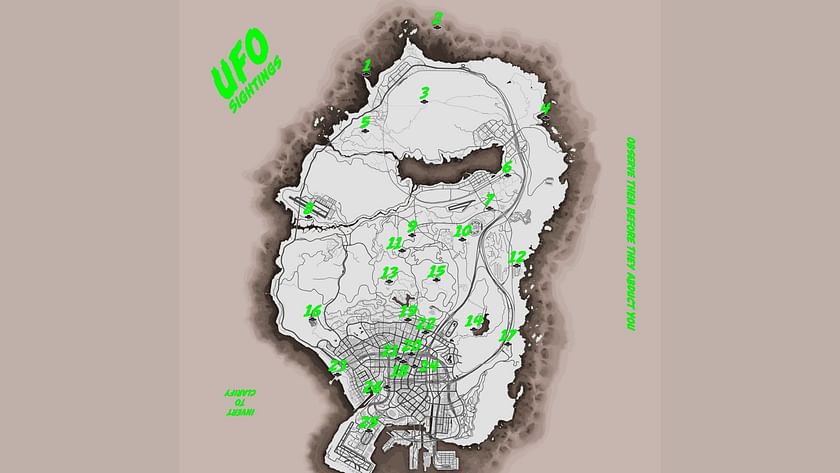 October 18 – (7)
October 19 – (8)
October 20 – (8,9)
October 21 – (10)
October 22 – (11)
October 23 – (12)
October 24 – (1,2,3)
October 25 – (5,8,11)
October 26 – (6,10,12)
October 27 – (13-17)
October 28 – (13-26)
October 29 – (13-26)
October 30 – (13-26)
October 31 – (13-26)
---
October 31st celebrations continue with the latest Halloween update
The current GTA Online Halloween 2023 update has allowed players to earn up to three times the rewards on some of the best Halloween-themed game modes, including:
Lost vs. Damned
Bunker Sell Missions
Slasher
Judgement Day
Halloween Bunker Series
Alien Survivals
Condemned
New Deathmatches
The Ghosts Exposed also made its debut, along with the new Albany Brigham drip-feed vehicle.
---
With the Grand Theft Auto 6 trailer details being leaked online, it seems like a good time to hustle in Los Santos and celebrate the spooky month with many rewards.
Poll : Have you spotted any UFO during GTA Online Halloween 2023 event?
2 votes