It's Gameweek 3 of the 2023-24 Premier League season and Tottenham Hotspur are scheduled to take on Bournemouth in a vital clash away from home this weekend.
Ahead of the encounter, former Chelsea and Norwich forward Chris Sutton has predicted who will come out with the three points at the Vitality Stadium on Saturday (August 26).
The Englishman has tipped the Spurs to secure a narrow 2-1 victory from the encounter but expects the hosts to put up a serious fight in front of their fans. He also acknowledged Bournemouth's capacity to get a result from similar instances.
It goes without saying that Tottenham appear to be a new side in the Premier League this season. The north London-based side now have a new manager in Ange Postecoglou, who was appointed by the club on a four-year deal this summer. Postecoglou has started ringing in the changes at Spurs and Chris Sutton admits he's in love with what he's seen so far.
"I love the change that Ange Postecoglou has made already but I do think Tottenham will be much better in a couple of months than they are now," the former Premier League star wrote for the BBC. "I wrote them off in the first couple of games because of that. The issue for Tottenham is if James Maddison will be fit."
"Bournemouth have a new manager as well in Andoni Iraola and I saw them at Liverpool last week. They started well and got themselves ahead and then faded. I have a sneaking feeling for Tottenham in this one, but normally when I write Bournemouth off they get a result!" Sutton added.
It will be interesting to see how this fixture pans out.
---
How Tottenham Hotspur fared in their first two Premier League games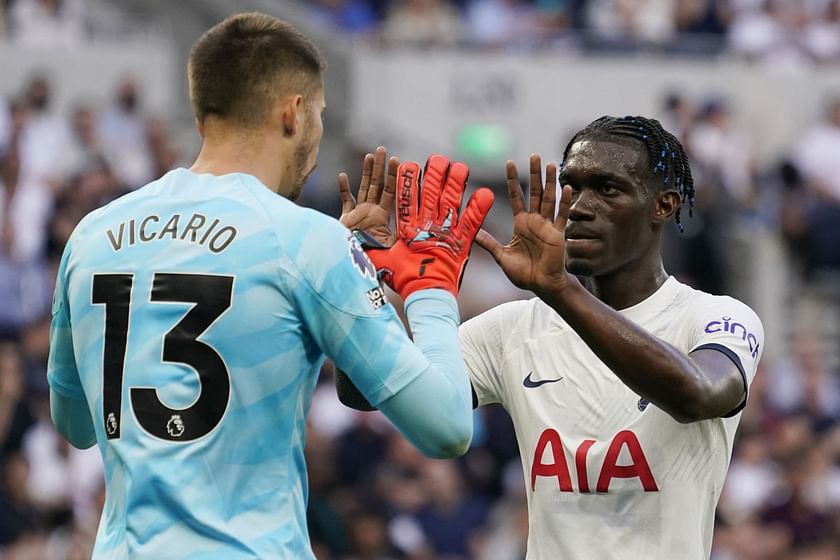 Spurs went head-to-head with Brentford away from home in their opening league fixture. Unfortunately, they couldn't secure all three points from the encounter and had to settle for a draw following a resilient performance from the home side.
However, they managed to grab their first win when they locked horns with Manchester United at home last weekend. Spurs beat the Red Devils 2-0 courtesy of a goal from Pape Matar Sarr and an own goal from Lisandro Martinez. Following that result, they now occupy the sixth position in the table, with four points in two games.
After clashing with Bournemouth this weekend, Spurs will battle it out with Fulham in the second round of the EFL Cup on August 29. Spurs will then return to action in the Premier League where they'll face Burnley on September 2.