Ons Jabeur couldn't be more happier over Aryna Sabalenka becoming the new World No. 1, saying that the Belarusian deserves the honor and that she has deserved to be No. 1 for a long time.
Following Iga Swiatek's loss to Jelena Ostapenko in the fourth round of the 2023 US Open, Sabalenka was assured of becoming the new top-ranked WTA player at the end of the tournament. Sabalenka will be the 29th woman in WTA history to hold the crown and only the second from Belarus, after Victoria Azarenka.
Speaking to the press after her own fourth-round clash at the US Open, a 6-2, 6-4 loss against Qinwen Zheng, the Tunisian was all praise for Sabalenka, noting that she loves how Sabalenka plays with a lot of passion on the court.
Ons Jabeur joked that she would love for the reigning Australian Open champion to stay No. 1 before she can take her place soon.
"Honestly, I'm so happy for Aryna. She deserved that. She's a very solid player. I've practiced with her. Big serve, big hitter. I think she deserves to be No. 1 spot. She deserved that for a long time ago," Ons Jabeur said.
"Definitely the match yesterday was very interesting. Not so many people surprised because Jelena can play amazing, amazing games. That's the beauty of also WTA, to find different heroes. I honestly love how Aryna plays with her passion on the court. You can feel it. Hopefully she will stay No. 1 until I get there and take her place," she jokingly added.
---
"As someone that played both Aryna Sabalenka and Qinwen Zheng, I think Aryna hits harder" – Ons Jabeur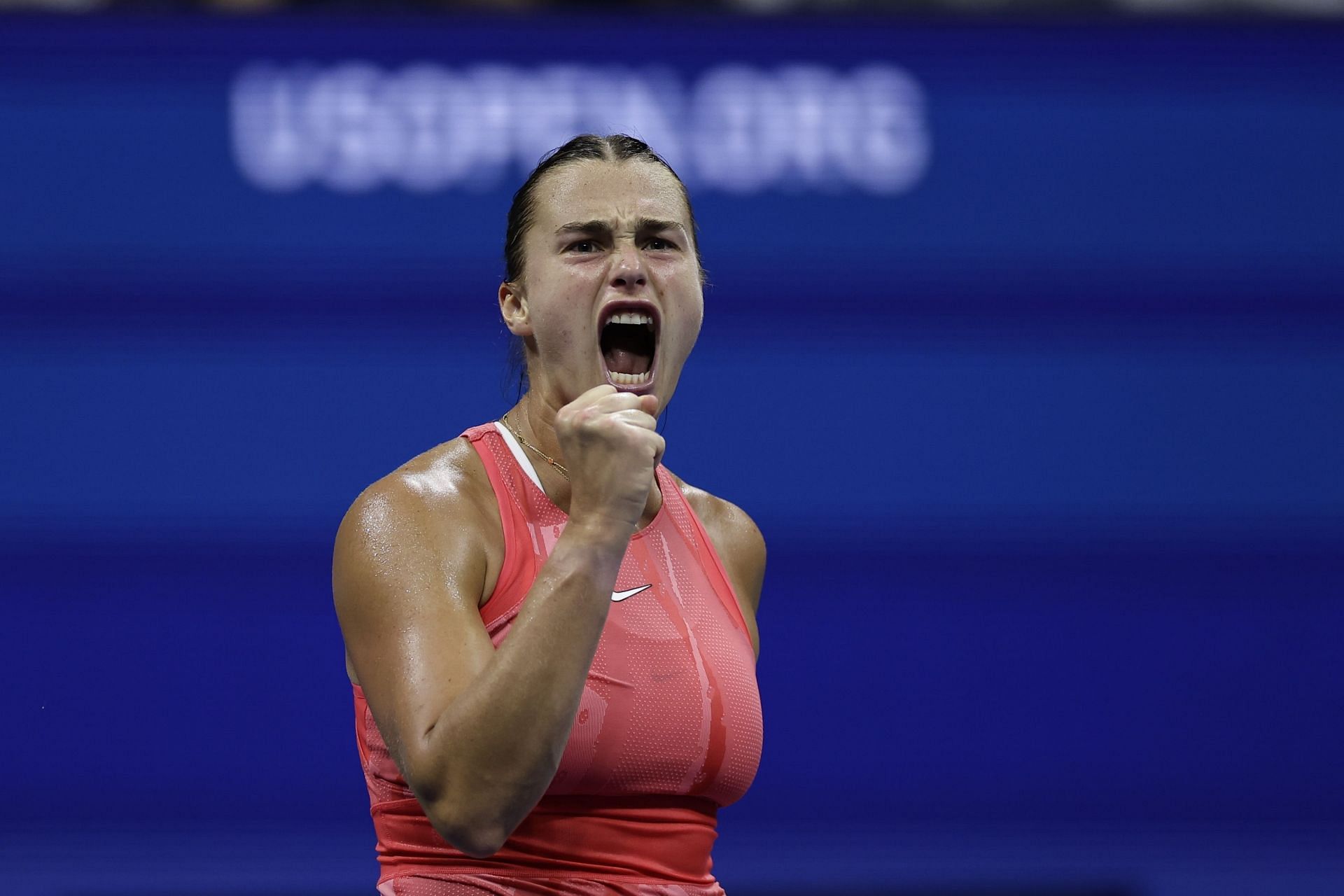 Aryna Sabalenka won her fourth-round encounter (6-1, 6-3) against Daria Kasatkina and will next take on Qinwen Zheng in the US Open quarterfinals.
Asked at her press conference if Zheng has the tools to beat the Belarusian, Jabeur opined that Sabalenka hits the ball harder than the Chinese and has bigger weapons in her arsenal compared to the youngster.
While she made it clear that Zheng is not a bad player by any means, the Tunisian asserted that her money would be on the soon-to-be-World No. 1 on Wednesday.
"I mean, as someone that played both, I think Aryna hits harder. Speed-wise I think it's harder. I think she can do both. She can put a spin and she can hit hard. I'm not sure for Qinwen. She can put a lot of spin, for sure," Ons Jabeur said.
"I think Aryna has much more experience. Her game, you always on your toes. She hits hard, that you always expect something big. She has, like, great hands. The serve is not shaky. If she wants to go for an ace, she would. I think her ball bounces higher on the second serve. Yeah, it's going to be interesting. But my money's on Aryna," she added.