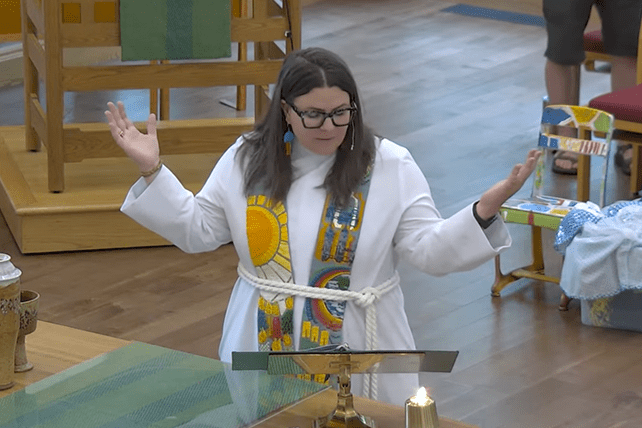 A clip of a progressive Lutheran church reciting the "Sparkle Creed," a version of the Apostle's Creed modified to emphasize LGBTQ+ inclusion, caused controversy online this week, with critics characterizing it as "idolatry," "heresy," and "absolute insanity." 
Edina Community Lutheran Church (ECLC) in St. Edina, Minnesota, recited the creed together on Sunday, June 25, which was the final Sunday to occur during LGBTQ+ Pride Month. The recitation was led by Anna Helgen, who serves as co-pastor of the congregation.
ECLC is a member of the Evangelical Lutheran Church in America (ELCA) and has been a part of the denomination's Reconciling in Christ initiative, which seeks to foster "the full welcome, inclusion, and equity of lesbian, gay, bisexual, transgender, queer, intersex, and asexual/aromantic (LGBTQIA+) Lutherans," since 1985. 
"I invite you to rise in body or spirit, and let us confess our faith today in the words of the 'Sparkle Creed,'" Helgen said to the congregation.
RELATED: First Transgender Bishop of Largest Lutheran Denomination Resigns
Some of the more provocative claims of the creed are that God is "non-binary," that Jesus had "two dads," and that "love is love is love." 
The full creed is as follows:
I believe in the non-binary God whose pronouns are plural.
I believe in Jesus Christ, their child, who wore a fabulous tunic and had two dads and saw everyone as a sibling-child of God.
I believe in the rainbow Spirit, who shatters our image of one white light and refracts it into a rainbow of gorgeous diversity.
I believe in the church of everyday saints as numerous, creative, and resilient as patches on the AIDS quilt, whose feet are grounded in mud and whose eyes gaze at the stars in wonder.
I believe in the calling to each of us that love is love is love, so beloved, let us love.
I believe, glorious God. Help my unbelief. Amen.
The "Sparkle Creed" was originally penned in 2021 by Rev. Rachel Small Stokes, pastor of  Immanuel United Church of Christ in Louisville, Kentucky.
After a video clip of ECLC reciting the creed was posted to Twitter, a number of Christian leaders and other conservatives were quick to voice their distaste for the newly modified version of an ancient liturgical mainstay. 
RELATED: After Toronto Pitcher Shares Christian Beliefs, Team Cuts Him Ahead of Pride Weekend
"Remember when everyone was debating whether they'd want someone to go to a church like this or no church at all? This is, without qualification, idolatry," tweeted pastor and podcaster Patrick Miller. "It is liturgical malpractice. It is…'the sparkle creed.'"