Recent days have seen additional alleged spoilers for One Piece Chapter 1090 be released by various reputable leakers for the series, such as @pewpiece (PewPiece) and DruMzTV. While Redon has yet to corroborate these leaks himself, PewPiece's prior alleged leak information for the upcoming release was verified by Redon upon its initial release.
As a result, fans are excitedly treating these latest spoilers as legitimate, or at least as legitimate as unofficial spoilers can possibly be deemed. Likewise, the additional spoilers for One Piece Chapter 1090 paint the upcoming issue as much more exciting and informative than the initial spoilers had upon their release.
Within One Piece Chapter 1090's latest alleged spoilers, fans learn of some shocking deaths amongst the Vegapunk Satellites, as well as seeing another betrayal brewing in the background. Fans also get additional details on the Straw Hats' escape plan as well as just how close they are to actually escaping Egghead Island.
---
One Piece Chapter 1090's latest additional spoilers give fans an excitingly in-depth look at upcoming issue
The latest spoilers
Following the initial One Piece Chapter 1090 spoilers from earlier in the week, fans first learned that Rob Lucci was secretly sending information to Admiral Kizaru and Saint Jaygarcia Saturn. This is established by Lucci seemingly talking to himself, even claiming to have been doing as much when asked what he was up to by the injured Kaku, his comrade.
Kizaru is then allegedly seen telling Saturn that Lucci sent them information about the happenings on Egghead, calling him very smart as well. The additional spoilers also claim that Lucci is staring at Stussy at some point in the issue, prompting her to tell him to stop when she notices it. This could suggest that Lucci's new target of assassination is Stussy, per Kizaru's orders, especially if this happens after the aforementioned scenes.
One Piece Chapter 1090's additional spoilers then claim that Saint Saturn asks Kizaru if he can use his lightspeed to get inside the dome and land on the island. Kizaru confirms this but adds that the man protecting the dome outside is his friend, Sentomaru. Kizaru also adds that if he attacks Sentomaru, then he'll order all the Sea Beasts, Seraphim, and Pacifista to destroy the Marine ships.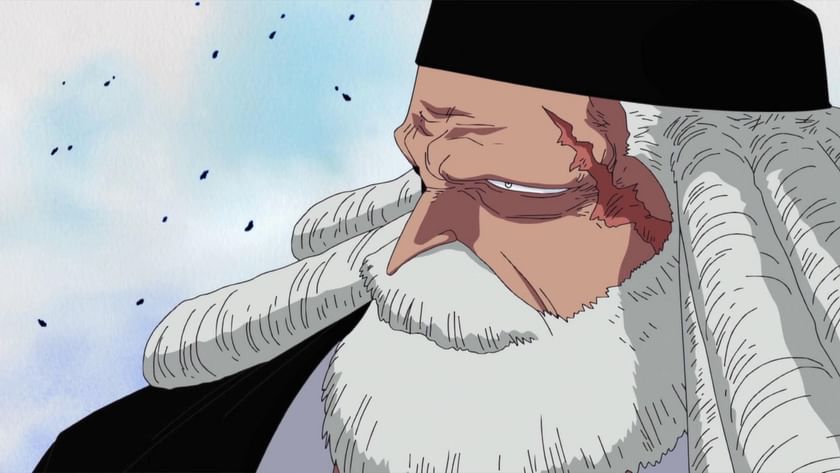 Saturn seemingly ignores this, instead instructing Kizaru that three things need to be protected: the Punk Records database, Vegapunk York herself, and the Mother Flame plant. Kizaru then seemingly begins attacking after getting his orders, prompting the Marines to begin attacking as well.
However, One Piece Chapter 1090's additional spoilers claim that Kizaru restricts who can fight. He orders the general forces to attack the Weaponized Sea Beasts instead of the Pacifista from the ships. He then orders all CP Agents and those Marines capable of using the Rokushiki abilities to attack the island alongside him.
Fans are then given additional details on Luffy's conversation with Saint Saturn. Luffy apparently tells him to leave with all the ships if they want York to live. The Gorosei is then said to ask Luffy "something," which he answers truthfully. However, this prompts the injured Robin to get angry, getting up and forcing Luffy to hang up afterwards.
One Piece Chapter 1090's additional spoilers then see Robin scold Luffy for giving information out so easily. Robin agrees that it's a negotiation process, but she tells Luffy that his "act is stupid." Luffy says he thinks it worked, while Usopp calls him a fool. It's also revealed that Vivi and Wapol are listening in on this call as well as Big News Morgans. It's also specified that the Gorosei heard and recognized Robin's voice before his call with Saturn ended.
This is seemingly followed by Dr. Vegapunk suggesting an escape plan. He asserts that they can use the Vegaforce to escape since it's already right next to the Thousand Sunny. He also tries to break the password that was set by York, as Luffy, Franky, and Vegapunk Lilith all head to the ship and the Vegaforce. It's also revealed here that Vegapunks Shaka and Pythagoras died, while Eidson, Atlas, and Lilith are alive and that the Seraphim received minor damage.
---
Be sure to keep up with all One Piece anime, manga, film, and live-action news as 2023 progresses.
Sportskeeda Anime is now on Twitter! Follow us here for latest news & updates.