Singers Nicolas King and Seth Sikes will mark the one-year anniversary of their creative collaboration this week with a spirted return to the New York stage where they first performed as a duo.
King and Sikes, known to fans as the "New Belters," will perform Friday at the Manhattan nightspot Green Room 42. HuffPost caught a sneak peek at the pair's concert via the below video.
In it, they sing Bobby Darin and Johnny Mercer's 1961 classic, "Two of a Kind," as a playful medley featuring winks at musicals like "Wicked" and "Chicago," as well as the Disney-Pixar classic, "Toy Story."
Watch Nicolas King and Seth Sikes perform "Two of a Kind" below.
"This song seemed like such an obvious choice, since we really are two of a kind," King told HuffPost in an interview. "When we met, it was very apparent that we had the same influences growing up. We were shaped by the same performers and artists, we kinda speak the same language. Plus, Seth is sort of the crown prince of parody lyrics, so we decided to make it personal to us and let the audience know what we're really about."
Added Sikes: "We like to say that it's kind of like the Rat Pack meets Judy Garland. And a bit Steve [Lawrence] and Eydie [Gormé], too."
A Rhode Island native, King made his Broadway debut at age 8 when he joined the cast of Disney's "Beauty and the Beast" as Chip. He returned to the Broadway stage in the 2001 Broadway revival of "A Thousand Clowns" starring Tom Selleck and, the following year, appeared in Carol Burnett's play "Hollywood Arms."
Not long after King's "Hollywood Arms" stint had wrapped, he landed a gig as the opening act for Liza Minnelli as she toured the country. His working relationship with Minnelli ― who he's gleefully dubbed his "Auntie Mame" ― continued through 2012.
The two men first teamed up in June of last year, when Sikes was mounting a celebratory concert honoring what would have been Garland's 100th birthday. Given King's professional ties to the Garland lineage by way of Minnelli, her eldest daughter, it was an especially fitting choice.
Following the Garland tribute, they began work on a full-length duo show, and the "New Belters" premiered in October 2022.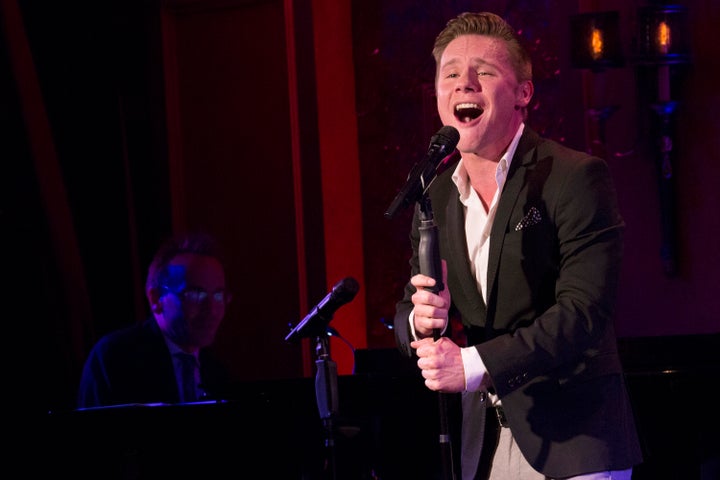 "Working with Nicolas feels something like working with Liza and Judy through osmosis," Sikes quipped. "He's taught me a little bit about scatting, which does not come naturally to me, and he's very good at giving a different rhythmic feel to a song and suggesting alternate notes I wouldn't think of. Also, he's a walking encyclopedia of popular music, so he's great at suggesting material for me."
Even though the "New Belters" was intended as what King describes as "a one-night-only stunt," word-of-mouth on the show was so strong that the pair were able to embark on a cross-country tour, with stops in Chicago, Los Angeles and other cities. Their forthcoming itinerary of as-yet-unannounced shows stretches through summer of next year.
"We have so much fun working together, and people keep booking us, so we keep going," King said. "We're really great puzzle pieces for each other, and it's not every day you find the puzzle piece you never thought you needed."