Apple's iPad is undoubtedly one of the most popular tablets on the market right now. There are several different models to choose from, but no matter which one you go with, you'll be getting one of the best tablets out there. Still, Apple provides an abundance of choice here, and with so many different versions — and nearly annual updates — it can be tricky to know which one is the best to get.
All of Apple's iPads are pretty great, and they're each designed with a slightly different audience in mind, so it's hard to pick a single one as "the best." That's why we've broken the list down by categories; after all, there's an ideal iPad for nearly every situation. Whether you're looking for the best overall iPad, the best iPad on a budget, something in the middle of the pack, or even the best small iPad, we've got you covered.
iPad Air (2022)
Best iPad overall
Pros
High-performance M1 processor
Slim and light
Software suitable for work or play
Large, colorful, and sharp screen
Wide array of quality accessories
Center Stage works well
Cons
64GB storage isn't enough
Battery life disappoints
Why should you buy this? The iPad Air (2022) offers pro performance for less.
Who's it for? Anyone who is looking for the best all-around tablet from Apple at a reasonable price.
The honor for best overall iPad goes to the iPad Air (2022). This is the sweet spot in the iPad lineup. It's a fantastic choice that should satisfy the needs of most people, with a wealth of performance and features at a surprisingly affordable price.
Firstly, the iPad Air (2022) packs in Apple's powerful M1 chip — the same one that debuted in the MacBook Air and MacBook Pro in 2020. Though Apple has moved on to the M2 now for its Macs and higher-end iPad Pro (2022), the M1 is still blazing fast in terms of performance, with an eight-core CPU split up into four performance cores and four efficiency cores. That means you get crazy power while also being power efficient. The eight-core GPU delivers incredible graphics, and the 16-core Neural Engine and 8GB of RAM equate to fast processing and rendering, which is noticeable when performing tasks like photo and video editing. It's already arguably more power than most people need on a tablet, but it also means you'll be able to enjoy top performance for years to come.
Though the iPad Air lacks Face ID, you still have a gorgeous 10.9-inch Liquid Retina display that takes up the majority of the front due to thin bezels. Visually, it's nearly indistinguishable from the more expensive iPad Pro. For biometric authentication, the iPad Air (2022) continues the trend of using a Touch ID sensor in the side button. The iPad Air also has the same Smart Connector and magnetic side charger as the iPad Pro, allowing for compatibility with the same accessories, such as the Magic Keyboard to turn your iPad into a pseudo-laptop, and the second-generation Apple Pencil to provide a fantastic digital canvas for artists.
While no iPad will ever hold a candle to the iPhone for taking pictures, the iPad Air (2022) is equipped with a high-quality 12MP main camera that gets the job done. More significantly, the front-facing 12MP camera provides great quality for video calls and also includes Apple's Center Stage feature that keeps the focus on you when you're moving around, and automatically expands the view when friends and family gather around.
The iPad Air uses USB-C for charging, which is also now on the entire iPhone 15 lineup. A full charge should last around 10 hours using Wi-Fi, or nine hours if using cellular data on the Wi-Fi + Cellular model. It's not the best battery life ever, but it should last through a full workday.
The iPad Air (2022) starts at $600 for 64GB on the Wi-Fi model, but you're likely better off taking the next step up to the 256GB version, which sells for $749. The iPad Air (2022) delivers great value since it offers all the performance features that most iPad users will ever need at a significantly lower price than the more premium — and power-user-focused — iPad Pro.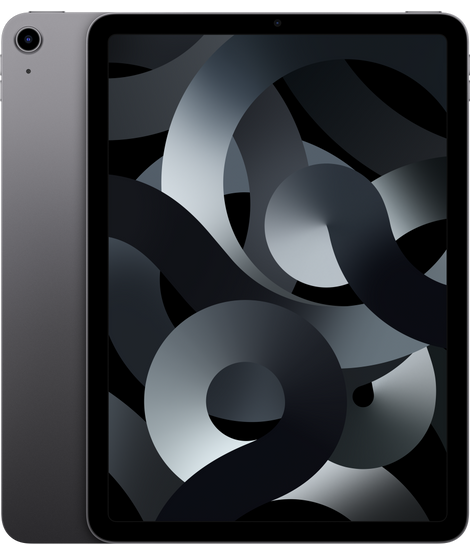 iPad Air (2022)
Best iPad overall
iPad (2021)
Best iPad on a budget
Pros
Great battery life
Powerful internals
Big upgrade to the front-facing camera
Amazing software support
Base storage more acceptable at 64GB
Cons
Display doesn't get bright enough
Lightning port in 2021
Slow Touch ID sensor
Why you should buy this? The iPad (2021) may be the previous generation, but it still offers great performance with a very affordable price tag.
Who's it for? Someone who wants one of the best tablets on the market from Apple without spending a lot of money.
If you're on a budget, the ninth-generation iPad (2021) is a great pick. While it's the previous generation of the base model iPad, it's still a very reliable and solid choice — and you get a lot of bang for your buck.
iPad (2021) has a spacious 10.2-inch Retina display that still looks beautiful when you use it. And if you still prefer having a home button for Touch ID, you get it with the classic design of the iPad (2021). It comes with the A13 Bionic chip, so though it's a little dated (the A13 launched in the iPhone 11 in 2019), it's still quite fast and capable when it comes to performance for the average user, thanks to iPadOS 16. It starts at 64GB of storage, which should be enough for most people who just want a basic iPad for doing things like checking email, sending messages, FaceTime calls, and perhaps some games.
While the rear camera is just a mere 8MP, the front-facing camera did get some upgrades over the previous iteration. It's now 12MP instead of the paltry 1.2MP of its 2020 predecessor, and it also has Center Stage, so you'll always be in the frame on video calls and look good doing so.
This is the last iPad that uses Apple's Lightning connector, as all other iPad models — and even the iPhone 15 and iPhone 15 Pro — use USB-C. Once fully charged, the iPad (2021) should last around 10 hours on the Wi-Fi model or nine hours with the Wi-Fi + Cellular version. Still, for just $329, the iPad (2021) offers good power and performance for those who don't need anything too fancy.
iPad (2021)
Best iPad on a budget
iPad mini (2021)
Best small iPad
Pros
Big enough to perform most tasks
Compact enough to travel easily
Powerful performance
Loud speakers
USB-C
Cons
Screen is not bright enough
Too small for content creation
No headphone jack
Why you should buy this? You want an iPad, but in a smaller, compact size.
Who's it for? Anyone who prefers a smaller size tablet.
Apple's iPad mini has traditionally gone a few years between updates. The latest 2021 refresh brought it back into line with iPad Air, which led the way with a big redesign in 2020.
The iPad mini (2021) gains a larger 8.3-inch Liquid Retina display and eliminates the home button found in its predecessor. Like its larger sibling, the iPad Air, it skips Face ID in favor of a Touch ID sensor in the side button. The Lightning connector has been replaced with USB-C for charging, and a full charge should last around 10 hours.
The iPad mini (2021) packs in an A15 Bionic chip, which is the same processor that powers the iPhone 13 lineup, as well as the iPhone 14 and iPhone 14 Plus. The A15 delivers plenty of power and fast performance, so the iPad mini will be able to handle whatever you may throw at it, including photo and video editing, as well as graphic-intensive games.
The best part about the iPad mini (2021), though, is the size. It's the smallest iPad that Apple offers, so it's much more compact and portable than its brethren. But even though it's small, it's still very much mighty. iPad mini (2021) supports the second-generation Apple Pencil, and you can always pair it up with a Bluetooth keyboard and mouse to turn it into a lightweight workhorse.
It is a little pricey at $500 for the smaller size, but if that's what you're going for, then you just can't beat the iPad mini (2021).
While the iPad mini is still good, if you can hold out for it, the iPad mini 7 is rumored to be coming soon. Back in December 2022, analyst Ming-Chi Kuo claimed that Apple was working on a new iPad mini that would be released in 2023 or 2024. The rumors indicate that the next-generation iPad mini would retain the same design as the current model, but it would come with a faster chip. It would be likely that the iPad mini 7 have the A16 Bionic, which launched in the iPhone 14 Pro and is currently in the iPhone 15 and iPhone 15 Plus.
iPad mini (2021)
Best small iPad
iPad Pro 12.9-inch (2022)
Best big-screen iPad
Pros
Sleek and modern design
Bright, vivid, gorgeous display
Wild performance from the M2 chip
Apple Pencil hover feature
iPadOS 16 is super robust
Cons
Stage Manager needs more work
Lackluster, awkward front camera
Prohibitively expensive
Why should you buy this? The iPad Pro is extremely powerful and offers a huge screen.
Who's it for? Gamers, power users, creatives. Anyone who wants a big screen to do their thing.
Few people are going to need it, but we know a lot of people are going to want it. The iPad Pro 12.9-inch is the iPad to get if you need the largest screen possible. The 12.9-inch display has a 2732 x 2048 resolution, but the real improvement in the display lies in the underlying tech. 2022's big iPad uses a mini-LED panel — what Apple calls a Liquid Retina XDR Display. With 10,000 custom-designed mini-LEDs grouped into 2,500 local dimming zones that can be individually controlled, it can output stronger colors and deeper blacks than any other tablet on the market. This means a display that not only looks gorgeous but can also meet the demanding needs of professional photo and video editors who need precision color accuracy.
That big screen is also backed up by some serious power. Like its smaller sibling, the 11-inch iPad Pro, the 12.9-inch model is running Apple's M2 chip, the same laptop-grade processor that powers Apple's latest MacBook Air lineup and the 13-inch MacBook Pro. All of this extra power and the large screen means the iPad Pro 12.9-inch can handle nearly anything a modern laptop can do, up to and including some hefty video editing. And when that's all over, you can use that power to play some pretty great iPad games as well.
The iPad Pro 12.9-inch is the iPad to grab if a big screen and top performance are what you need out of your iPad. The larger size means it won't be as portable or easily stowed away as the 11-inch model, but if you need room to breathe, you'll welcome those extra 1.9 inches. The same warnings apply as with the smaller iPad Pro, though, and adding the extra (and desirable) accessories will push up the price of the already expensive 12.9-inch iPad Pro into MacBook territory. However, even with that in mind, this iPad is undoubtedly the best iPad if you want a tablet that will heighten your enjoyment of games, movies, and more.
iPad Pro 12.9-inch (2022)
Best big-screen iPad
iPad (2022)
Best mid-range iPad
Pros
Updated, modern design
Wonderfully vibrant colors
Larger display is fantastic
A14 chip is plenty powerful
Strong battery life
USB-C is finally here
Cons
The headphone jack is gone
Non-laminated screen
Apple Pencil situation is a mess
Huge price increase
Why should you buy this? The iPad (2022) is Apple's latest entry-level tablet, offering a nice bridge between last year's iPad (2021) and the pricier iPad Air (2022).
Who's it for? Someone looking for an affordable tablet for everyday use that offers good bang for the buck.
If you're looking to spend a bit more on an iPad that's still easy on the wallet, Apple's iPad (2022) is worth considering. It's a great option for folks who like the newer iPad design with an edge-to-edge screen but don't need all of the bells and whistles that the iPad Air (2022) has to offer.
It packs in Apple's A14 chip — the same one used in the iPhone 12 — which offers more than enough performance for all but the most demanding power users, and most folks will be hard-pressed to find a speed difference between this and the latest M2-equipped iPad Pro. Like the iPad Air (2022), it features a more expansive 10.9-inch screen and a Touch ID sensor in the side button.
While the iPad (2022) is no slouch in the performance department, it's a bit more basic when it comes to the display and accessory support. You don't get the higher-quality, anti-reflective laminated display found on the higher-end models, but it also offers a unique landscape camera that's great for video calling, with the same Center Stage feature found on the rest of Apple's iPad lineup to make sure that your video calls stay focused on you.
There's also support for the first-generation Apple Pencil and a Magic Keyboard Folio, but these differ from the more advanced versions made for the iPad Air and iPad Pro. That won't be a problem for most folks, but it's worth keeping in mind if you're planning to do any serious drawing or looking for a more full-featured laptop replacement.
The 10th-generation iPad also eliminates Lighting from the 9th-generation that we mentioned earlier and replaces it with USB-C, making it equal with the rest of the iPad lineup. This is also the new universal connector that has made its way to the iPhone 15 and iPhone 15 Pro models.
The iPad (2022) starts at $449 for a 64GB version, making it an affordable and well-rounded tablet for families and everyday casual use.
iPad (2022)
Best mid-range iPad
Frequently Asked Questions
What are some things to remember when buying an iPad?
Much like iPhones, iPads are well-made devices and built to last, at least compared to certain other tablets. Apple will roll out software updates for them on a regular basis, while it will also support them with updates for a good few years. This means an iPad bought today will probably be supported long past the point at which you start looking to upgrade to a newer model.
If this is your first time buying an iPad, but you've previously owned iPhones, you'll be reassured to know that iPadOS is nearly identical to iOS. The main difference between the two operating systems is that iPadOS is built more for multitasking, with such features as Split View and Slide Over, or the new Stage Manager feature in iPadOS 16, which make it easy to use multiple apps at once or quickly swipe between apps. Another difference is that iPadOS' Safari is billed as "desktop class," in that many popular web apps (e.g. Google Docs) work better on it than on the iOS version.
If you're coming to an iPad for the first time from Android, you may initially be daunted by iPadOS. However, one of the main selling points of iPadOS (and iOS) is its streamlined simplicity. The OS is logically laid out and structured, and while some complain about the "closed-in" lack of customizability, the security and cohesion it offers are worth the trade-off for most users.
One other thing to bear in mind is that if you're coming from Android, you may not be able to transfer all of your data over to your new iPad. Apple states that you can transfer over your contacts, message history, camera photos and videos, web bookmarks, email accounts, and calendars, although not all apps may be transferable, while some messaging apps may not let you transfer over all of your data.
As we noted above, some of the accessories available for the iPad may be a bit pricey. The Magic Keyboard for the iPad Pro and iPad Air, for example, costs $299, while the second-generation Apple Pencil costs $129. This heaps on an additional cost to already expensive tablets, and you may also find that making that initial investment in Apple products locks you into the Apple ecosystem insofar as Apple accessories are compatible only with Apple devices. That said, Apple's products usually are high-quality and highly reliable, so you'll almost always get your money's worth, but they're also not the only options available. You can use an iPad with any Bluetooth keyboard, and there are also plenty of options for alternative styluses that are great for casual use.
Can you print from an iPad?
Yes, you can indeed print from an iPad. Check out our guides on how to print from an iPhone for everything you need to know. It works the same way on an iPad.
Can you make phone calls on an iPad?
They may not be smartphones, but you can make phone calls with iPads — just not directly. Even though Apple offers iPad models with cellular support, this is used solely for transferred data when you're away from Wi-Fi. It can't be used for calling or texting. Instead, you can make use of Wi-Fi calling, which involves routing Wi-Fi calls through your iPhone — if your carrier supports it, that is.
You can also use FaceTime on an iPad to make video or audio calls, and there are also a wealth of third-party apps, such as Facebook Messenger, Skype, WhatsApp, and Zoom, that can be used to call folks who also use these services. Most voice-over-IP apps on the App Store can also be used with the iPad, so if you really want to use your tablet to make calls to traditional phone numbers, it may be worth considering one of the best VOIP (Voice Over Internet Protocol) services.
Can you text on an iPad?
The iPad includes Apple's Messages app, which can be used to send iMessage to other Apple devices over your Wi-Fi or cellular data connection. You can also send and receive standard SMS/MMS text messages on your iPad, but only if you also have an iPhone. Even the cellular-capable iPad models don't offer SMS/MMS capabilities — iPad cellular service is for data only — so traditional text messages are routed through your iPhone via iCloud, and they'll use the phone number from your iPhone.
Of course, there's also the usual assortment of third-party messaging apps that you can use with your iPad, from Facebook Messenger to WhatsApp.
How do we test?
We rigorously test all the iPads we receive, living with them for extended periods of time to learn just how they perform in real-world settings. This means working on them, playing games, watching TV and movies, reading e-books, taking photos, capturing video, and using all of the latest and most demanding apps. In other words, we use them exactly as you would use them, and while we naturally value innovative and quirky features, we also love tablets that simply get the basics right. Using them regularly also means we learn the particularities of each iPad we test, including their weakness and strengths, allowing us to make informed recommendations.
As you can see, there's not really a "one-size-fits-all" iPad since Apple split it up into multiple models. However, the iPad Air comes closest to the best all-around iPad, so we recommend that one for those who want pro power for less. Otherwise, those on a tight budget should consider the iPad (2021), and those who want a small or big iPad should go for the iPad mini (2021) or 12.9-inch iPad Pro, respectively.
No matter which model you go with though, an iPad is one of the best tablets on the market. Apple will continue to provide support for these through iPadOS software updates for at least several years after your purchase. So whether you pick up a base-level iPad or go big with the Pro, it'll be a great choice either way. The model you want to buy just depends on your needs.
Editors' Choice