An Instagram post claiming that viral child star Lil Tay and her brother died has been taken down.
The post, attributed to her family, was published Wednesday morning and quickly trended on social media as people shared their sorrow. The rapper would only have been 14, and the post mysteriously referred to the deaths as still being under investigation.
"I want to make it clear that my brother and I are safe and alive," Lil Tay said in a statement provided to TMZ by her family. "My Instagram account was compromised by a 3rd party and used to spread jarring misinformation and rumors regarding me, to the point that even my name was wrong. My legal name is Tay Tian, not 'Claire Hope.'"
Multiple police agencies told HuffPost that they had no knowledge of the girl's death or any investigation. Her parents did not respond to repeated requests for comment; her father, Chris Hope, declined to comment on Wednesday to the New York Post in a brief phone conversation.
Lil Tay, who has millions of followers on social media, and her mother had claimed in the past that her Instagram account had been hacked, and there have been multiple previous reports that third parties had access to it. Yet various media outlets reported on Wednesday's post, which was made on a verified account, as if it were authentic.
"It is with a heavy heart that we share the devastating news of our beloved Claire's sudden and tragic passing," the now-deleted post said, referring to Lil Tay. "We have no words to express the unbearable loss and indescribable pain. This outcome was entirely unexpected and has left us all in shock. Her brother's passing adds an even more unimaginable depth to our grief."
It continued, "Claire will forever remain in our hearts, her absence leaving an irreplaceable void that will be felt by all who knew and loved her."
Hours after the post, Harry Tsang, Lil Tay's former manager, told HuffPost in a statement that he could not confirm or deny whether it was accurate. He had been in touch with "individuals who have an intimate understanding of the family's situation," he said.
"Given the complexities of the current circumstances, I am at a point where I cannot definitively confirm or dismiss the legitimacy of the statement issued by the family," Tsang said. "This situation calls for cautious consideration and respect for the sensitivities involved."
The Instagram post on Lil Tay's account asked for privacy as the family grieved, adding that the circumstances surrounding Lil Tay and her brother's "passing" were still being investigated.
As of 2020, Lil Tay was living in Vancouver, Canada, while a custody dispute between her parents over how her career should be managed made its way through the courts, TMZ reported.
Yet, in an email to HuffPost on Wednesday, the Vancouver Police Department said they have not gotten reports of Lil Tay or her brother's death and are not investigating.
A spokesperson for the Royal Canadian Mounted Police Burnaby division told HuffPost that they "are aware of the information circulating on-line," but "do not have a current investigation in relation to this matter."
Authorities in Los Angeles, where Lil Tay and her family spent some time as her career was taking off, similarly told HuffPost that they had no information about her death.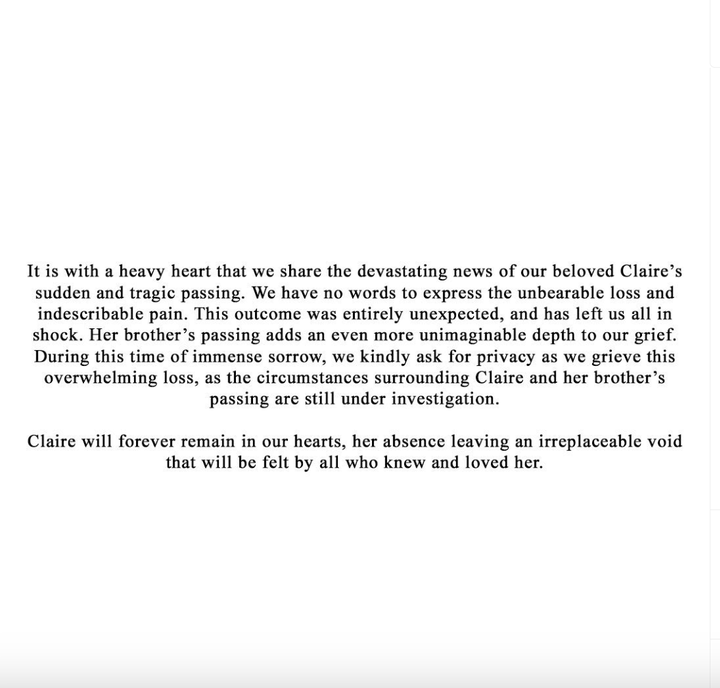 Lil Tay rose to internet stardom in 2017 as a belligerent and foul-mouthed 9-year-old, calling herself "the youngest flexer of the century" in videos where she confidently showed off mansions and luxury cars.
She went silent a year later after a video spread of her older brother, Jason Tian, supposedly feeding her lines, raising questions about how her family was influencing and profiting off her internet personality.
In July 2018, her Instagram account posted "Help Me," leading her followers to believe she was in danger.
Soon after, her Instagram account made several posts about her father, accusing him of abuse with the hashtag #FreeLilTay. A representative later said she had been hacked, and her father has repeatedly denied the allegations. Tsang told the Daily Beast in 2018 that the abuse accusations were false and had been part of a plot by Lil Tay's mother and brother.
In 2021, Saveliltay.com, a fundraiser to allegedly help finance Lil Tay's legal fees, was created. The fundraiser, set up under Jason Tian's name, again made several accusations that Lil Tay's father physically and mentally abused the young internet star and exploited her fame for profit.
HuffPost reporter Paige Skinner contributed to this story.