Sergio Aguero's son, Benjamin Aguero, reacted after Lionel Messi made his Inter Miami debut in his trademark brilliant style. The Argentina captain, who came on as a late substitute during the match, scored a spectacular last-minute winning free kick to hand his side the win.
Messi came on as a substitute in the 54th minute of the match, as his team was 1-0 up. However, Cruz Azul, a Liga MX side, restored parity to the Leagues Cup clash by scoring an equalizer in the 65th minute of the game.
Messi decided to take matters into his own hands as he introduced fans of US Soccer to his well-known brilliance by dispatching a late free kick to the back of the net.
The Argentina captain was in a jubilant mood after the match as he uploaded a social media post, writing on his Instagram:
"LET'S GO!!! It was very important to start this @leaguescup with a victory for us and also for all our people. We continue…"
His post has already gotten close to 13 million Instagram likes, with fellow professionals commenting on it.
Benjamin Aguero also left a comment, as he wrote:
"what planet did you come from LIONEL."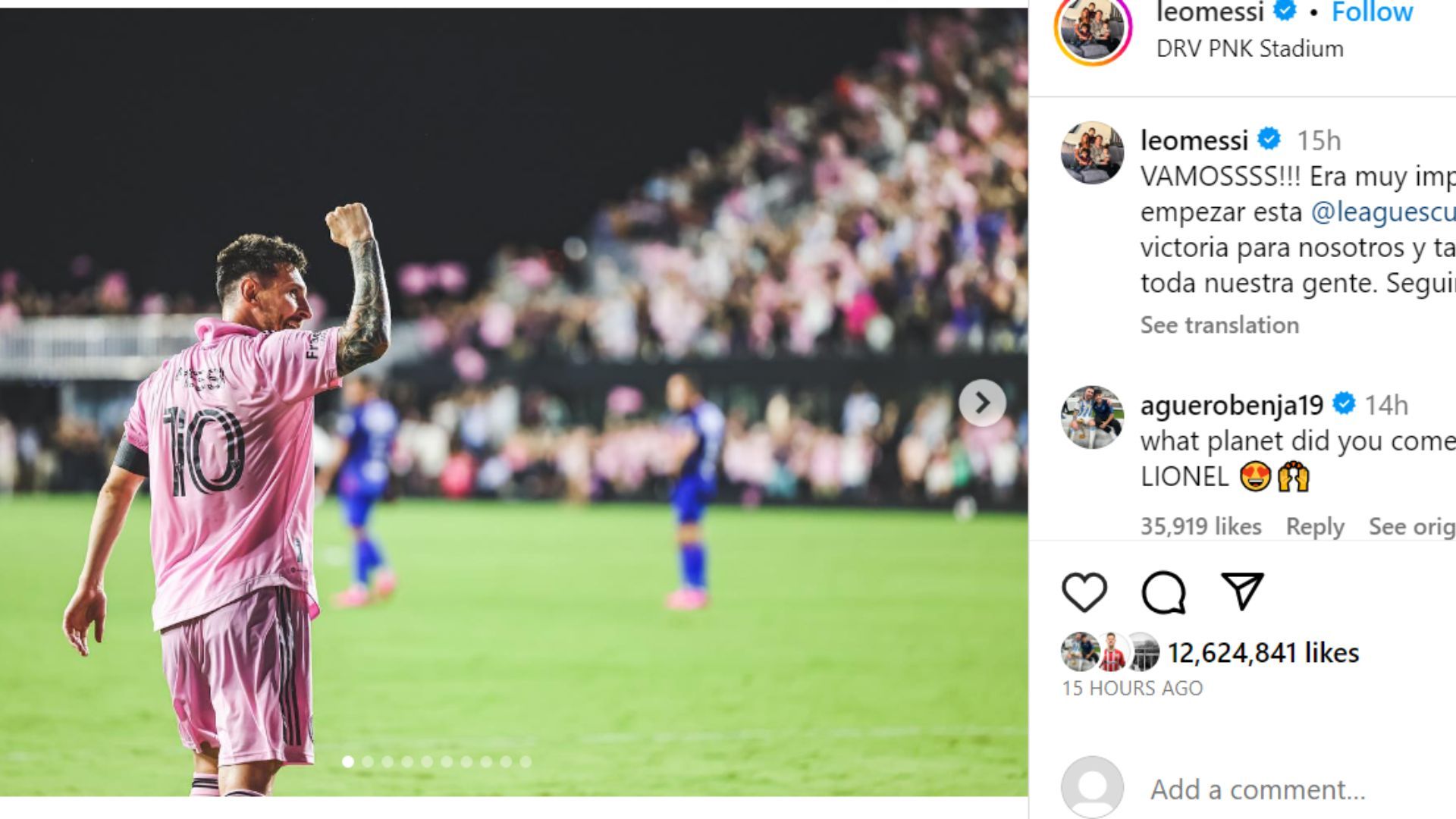 ---
Sergio Aguero said he would have played alongside Lionel Messi at Inter Miami if he was fit
Sergio Aguero had to call time on his career in 2021 due to a heart issue. The striker was forced to call a premature end to his career due to the health complication.
Aguero has now said that he would have played alongside Lionel Messi at the MLS club Inter Miami if things played out in a different manner.
Speaking on the issue, Aguero said (via AS USA):
"We always talk about ending up together somewhere, but had things been different, I would be playing with him here in Miami today."
Further speaking about Messi's iconic debut, Aguero said:
"If what we saw today was a Hollywood movie, we would have to look for something like 'the beginning of something by Messi in Miami', I think it is the beginning of an era in Miami that can be very significant."
Lionel Messi is already making his mark in US Soccer. Fans will keep a keen eye on what the Argentina captain has in store for them in the near future.