Fans had a good laugh after seeing Gilbert Burns choke out one of his supporters.
The latest UFC event goes down on Saturday night inside the Qudos Bank Arena in Sydney, Australia. Burns, the number five-ranked welterweight, decided to attend the event, leading to an intriguing interaction with a fan.
It turns out some fans are interested in being choked out by one of their favorite fighters. Burns encountered this situation and accepted the request, which he posted on Twitter with the caption:
"Guys asking to be chocked out here in Sydney"
Fans filled the comment section with jokes and laughter, including the following people saying:
"Bro, you could have Bill Cosby'd him easily. Wasted opportunity"
"You should charge them $$$ for that."
"Probably the most caring and gentle sleeper I've ever seen"
"It's like sitting on Santa's lap, but instead of telling him what you want for Christmas, you get choked out"
"Love that you take time to meet with fans. Even if they want to be choked, lmao."
"Im sorry but why does it look like he enjoyed it"
Gilbert Burns made his UFC debut in July 2014. Since then, he's established himself as a mainstay in the UFC welterweight division, with an overall promotional record of 15-6. 'Durinho' now looks to continue his road to becoming a world champion at 170 pounds.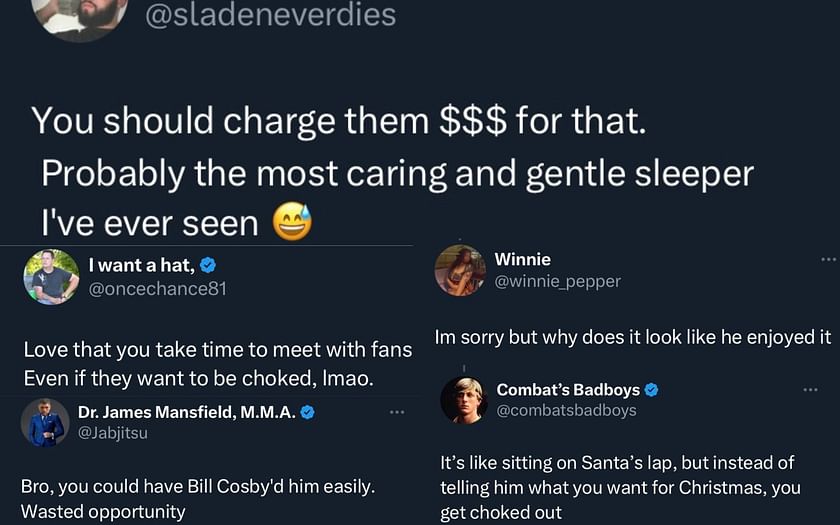 ---
What's next for Gilbert Burns in the UFC?
Gilbert Burns has fought three times in 2023. He started with a first-round submission win against Neil Magny in January. In April of this year, the Brazilian returned to action and secured another victory by defeating Jorge Masvidal by unanimous decision in the latter's retirement fight.
A month later, Burns accepted a short-notice opportunity against Belal Muhammad at UFC 288. Unfortunately for him, 'Durinho' suffered a unanimous decision loss, ending his momentum.
Due to the layout of the division, Burns is likely two wins away from receiving another welterweight title shot. Therefore, he could be seeking a high-profile matchup against someone like number six-ranked Shavkat Rakhmonov.
It'll be a treacherous journey to become the UFC welterweight king. Luckily, Burns has the desire and well-rounded skillset to potentially make it happen.